Lady Bay Groups and Classes
Apart from childcare for parents with certain occupations, most groups and classes are now closing due to the Corona virus situation - as always, check with the organiser before attending. However some are managing to do something, so we shall attempt to list them as Headlines at the top of this page as they are publicised. However, if interested, please bear with us and seek out their contact details, which still appear in the listings further below.

Re childcare, this link has been set up, called Notts Help Yourself, to provide the latest information for parents in nottinghamshire. https://www.nottshelpyourself.org.uk/kb5/nottinghamshire/directory/landing.page?newdirectorychannel=2
Groups and activities continuing during covid19 restrictions
HEADLINES - contact details under their normal listing.
All Hallows Church The church will no longer be open to the public. However, a short resource is being produced so we can all pray at the same time (usual Sunday service time starting at 10am) the bell will be rung at that time so those close enough to hear it can know when we start. It will be posted on the Facebook page beforehand so anyone can join in, or can be printed and delivered to those without internet. Of course anyone can join in without having the resource, but if they want it, they can message All Hallows via web site, FaceBook page or leave a message on 0115 9820181.
Childcare and Education
Abbey & Lady Bay Children's Centre will remain closed but still offering 1:1 support, please contact the centre for any further information 01949 863840.
Lady Bay Pre-school have closed but have provided this link for parents, especially key workers, seeking childcare - https://www.nottshelpyourself.org.uk/kb5/nottinghamshire/directory/landing.page?newdirectorychannel=2
Little Friends Day Nursery - We are open today for key workers only check door for regular updates and changes. New opening hrs 7.45 to 5pm monday to thursday fri is 8 to 2pm. These hours may change as the days go on, keep checking facebook for update - link here.
Wishing Well Day Nursery have, based on government advice, chosen to close to all except for those vulnerable children and to children to whose parents are Key Workers from the published list. If you fall into one of the 'Key Worker' categories as listed by the Government, please can you contact them either by telephone 0115 9142233 or by email

[email protected]

to say that you require a place.
Before and After Lady Bay - Stella Dova has just told us that she is a local childminder who provides before and after school care with creative activities. Facebook page only - https://www.facebook.com/beforeafterladybay/. No entry below yet, awaiting more copy.
Rugby Tots Nottingham will be launching [email protected] over the next few days, check on Facebook - https://www.facebook.com/291955431556975/posts/668858313866683/?d=n
But an increasing number of Health and Well-being Classes are continuing online
Pilates by Jodi are running online classes - you need to email Jodi in advance and pay to be sent the link to the session. Those who have already paid for the term should already have a link to the class they usually attend. Otherwise you can pay as you go for the class that is convenient for you. Details under 'Pilates by Jodi' below.
Balance yoga classes now all online, details below, under 'Balance Yoga' but best check with the instructor.
Pilates with Debra - Zoom-based virtual classes being run, details and timetable below under 'Pilates and Yoga with Debra'.
Vinyasa Flow Yoga, Monique Fryer - setting up online courses - see below.
Zumba with Ali - Live online classes at all the usual times plus they stay on line as videos afterwards. Free to those with no current income! Plus, from next week, free Kids Zumba classes. Contact details as per usual listing below.
Susan Hart's Nutrition courses are now being delivered via Skype or by phone - details below.
As week as that the following are also managing to carry on - let me know of any more:-
Community and maybe Tuneless choirs are running online sessions via Zoom.
Birdwatchers are making good use of their exercise time to report sightings online.
Heron Music Cafe are running on-line sessions via Music works - see listing below for contact details.
Classes in fitness, Wellbeing, Pilates, Yoga etc. A number of the following classes are now being conducted online - check via contact details below.
Lady Bay is home to a rich variety of groups and classes, whatever your interests. These listings are now grouped by type of interest, starting with children and gradually moving towards adult classes and groups, albeit with quite a lot of overlap. So scroll down to see the full list (e.g. Fitness/Pilates/Yoga etc .classes are at the end). We always welcome relevant new submissions so please do let us know if you're starting a new community venture!
Adult gROUP activities - to my knowledge all cancelled except any mentioned in headlines above.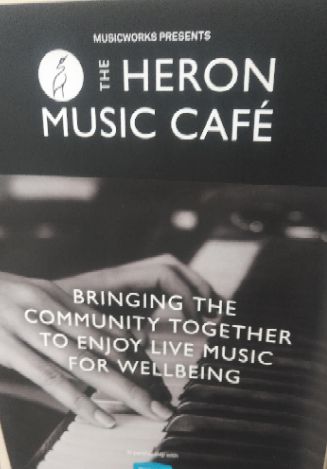 The Heron Music Well Being Cafe continues with online sessions at the moment.
meets on Monday mornings, every fortnight, at the Poppy and Pint and aims to provide a dementia-friendly and inclusive space for people to come along and enjoy live music based on the five principles of Well Being. The cafe is about avoiding labels and bring people together with a wide variety of mental health conditions, with those who are socially isolated or who just want to share a cup of coffee and have a song! No charge is made to attend and refreshments are provided, though we welcome donations to ensure the cafe can continue.
The sessions are led by specially trained musicians who are supported by a team of volunteers. The cafe is run by musicworks and sponsored by the Trent Bridge Community Trust.
Sessions take place on a Monday morning between 10.30 and 12noon on a fortnightly basis (not bank holidays). Contact us for details of the next one - email on [email protected] or phone on 0115 9145879.
For more details on musicworks in general, see - http://musicworksnet.co.uk/.